CBD Salve 550mg - 1100mg
Active CBD Oil Super Strength Salve is a high-quality, vegan CBD salve made with the best balance of ingredients. It is available in either 550 mg which is a great size for beginners, or a 1100 mg size which is better for those who want a more concentrated version.
THC-free
Broad Spectrum CBD

2 oz 550 mg regular strength is made with shea butter

4 oz 1100 mg super strength salve is now plant-based, vegan and Leaping Bunny certified 
Infused with natural arnica & calendula extracts and rosemary essential oil
Non-greasy formula 
Made in Colorado 
Each batch that is produced is sent to a 3rd party lab and results are consistently updated here: Active CBD oil Test Result Page
A salve is a product created for topical application, typically used to promote healing for soothing irritated skin. We infuse our salve with CBD oil, rosemary oil, and arnica extract for a product boasting a wide variety of potential benefits. Salve is often used for things like arthritis, achy joints, sore muscles, acne, psoriasis, shingles, and eczema.
A CBD salve differs from a lotion by being oil based, as opposed to most lotions being water based. Because it is oil based, our CBD salve tends to have a much firmer consistency than lotions at room temperature. The salve melts down into a more workable, oily consistency as it warms up to your body temperature. Often people with sensitive skin will opt for a salve over a lotion due to the shorter list of ingredients required to make a salve. Salve is made for external use and you should avoid contact with your eyes.
Our CBD salves come in a dark blue container to minimize exposure to direct sunlight, which can cause the CBD to degrade faster. Other factors that can cause CBD creams to lose effectiveness include extreme temperatures and excessive exposure to air.
CBD Salve for Pain
From minor injuries to chronic pain, topical CBD products are being used for a wide variety of reasons. One of the biggest reasons is usually pain relief. CBD has been shown in some studies to exhibit anti-inflammatory properties. When you reduce inflammation, it is possible to reduce pain. Muscle pain and joint pain are two of the most common types of pain people are using CBD pain salve for. Many people like to apply CBD muscle salve to aching muscles after working out. Some people even use CBD salves during physical therapy to make the therapy more bearable. Arthritis in the hands and knee pain also have people turning to CBD.
CBD Salve for Skin Conditions
Eczema, psoriasis, contact dermatitis, acne, dry skin, and shingles are all examples of different types of skin conditions, some of which can cause pain, that people are using salve CBD products for. The organic olive oil in our products has been suggested to have antibacterial properties, making it a popular option for the management of acne. The moisturizing ingredients in our CBD salve, like organic olive oil and vitamin E, are what have people turning to it for things like dry skin, eczema, and contact dermatitis. Scientific evidence even suggests that moisturized, healthy skin can potentially scar less intensely than dry skin, so many people will use topical CBD hemp salve during wound healing or before and after surgical incisions. It's always best to consult a medical professional before using a topical product on broken skin.
Tips for Application
Whether using CBD salve for back pain, CBD salve for muscles, CBD salve for nerve pain, or CBD salve for pain relief in general, the application will be very similar.
Apply after taking a hot shower.
Many people find that a hot shower makes their muscles feel a bit more relaxed, and topicals tend to absorb better after a shower as your skin is pulling in moisture.
Wash your hands.
If a person opts to not apply after a shower, it's important to make sure that you wash your hands before using the salve. This is to keep the salve from becoming contaminated with any bacteria that may be on your hands prior to use.
Start with a thin layer.
How much CBD? Most people will apply a thin layer of CBD topical salve and give it time to absorb before reapplying. Topical CBD pain relief salve will only work where it is applied, so it's important to make sure you are covering the entire affected area where you want the salve to work.
Massage the salve into the skin.
If you're able to, many people find that taking the time to massage the salve into the skin produces better results than not. This involves just taking a few moments to gently massage the area after application, making sure to cover areas where you want better absorption.
Reapply as needed.
CBD cream often need to be reapplied every four to six hours, though the time of effectiveness will vary from person to person. Some people need to reapply every few hours, while some only need to reapply every few days. It can take some experimentation to find what works best for you.
Full Spectrum vs Broad Spectrum vs Isolate
We have topical cannabidiol oil products for everybody! We have products with trace amounts of THC, products with zero THC, and products that are nothing but CBD. 
Full Spectrum
Full spectrum CBD is made using the entirety of the hemp extract, and contains a spectrum of components from the hemp plant. Full spectrum CBD products can contain trace amounts of other cannabinoids, such as CBG, CBC, CBN, and THC, as well as terpenes, flavonoids, and naturally occurring amino acids.
Hemp derived CBD products that are full spec. contain 0.3% or less THC. This amount is typically not enough to cause any kind of intoxicating, or high, effect, however any amount of THC has the potential to show up on a drug test. The reason for the inclusion of the majority of the plant extract is that research indicates that the more parts of the plant you have working synergistically with each other, the better it could potentially work. This is called the entourage effect.
As far as full spectrum fab CBD oil salve, we offer our 3000 mg 4 oz. full spectrum salve as well as a CBD THC salve that combines 500 mg of delta-8-THC with 100 mg of CBD.
Broad Spectrum
Broad spectrum CBD is made very similarly to full spec. CBD. The majority of the hemp extract remains intact, however it has gone through one extra process, called chromatography, to remove the THC. This makes our broad spectrum CBD products THC free. Because there are still additional cannabinoids, terpenes, flavonoids, and naturally occurring amino acids present, broad spectrum CBD is still suggested to promote the entourage effect.
For broad spectrum CBD topical products, we offer our 550 mg 2 oz. broad spectrum salve as well as our 1100 mg 4 oz. broad spectrum salve. These products are nearly identical and contain the same concentration of CBD per volume, however the 550 mg salve has one extra ingredient not contained in the 1100 mg salve, which is shea butter. The shea gives the 550 mg salve a slightly creamy texture compared to the oily, waxy texture of the 1100 mg salve.
Isolate
CBD topicals made using CBD isolate contain only CBD and no other components from the hemp plant. There are no other cannabinoids, terpenes, flavonoids, or naturally occurring amino acids within an isolate product. Isolate products are not thought to produce the entourage effect. 
For CBD isolate topical products, many people enjoy other options we have, like our CBD lotion, transdermal cannabidiol patches, and CBD bath bombs.
CBD Topical Salve: Ingredients
Our CBD salves are packed with nourishing ingredients, as well as natural ingredients. It is important to thoroughly vet brands and evaluate ingredients within products before deciding what CBD products to purchase. Not all product manufacturers use high quality ingredients, and a thorough investigation of the brand and ingredients will make it more likely for you to end up with great stuff and some fab CBD.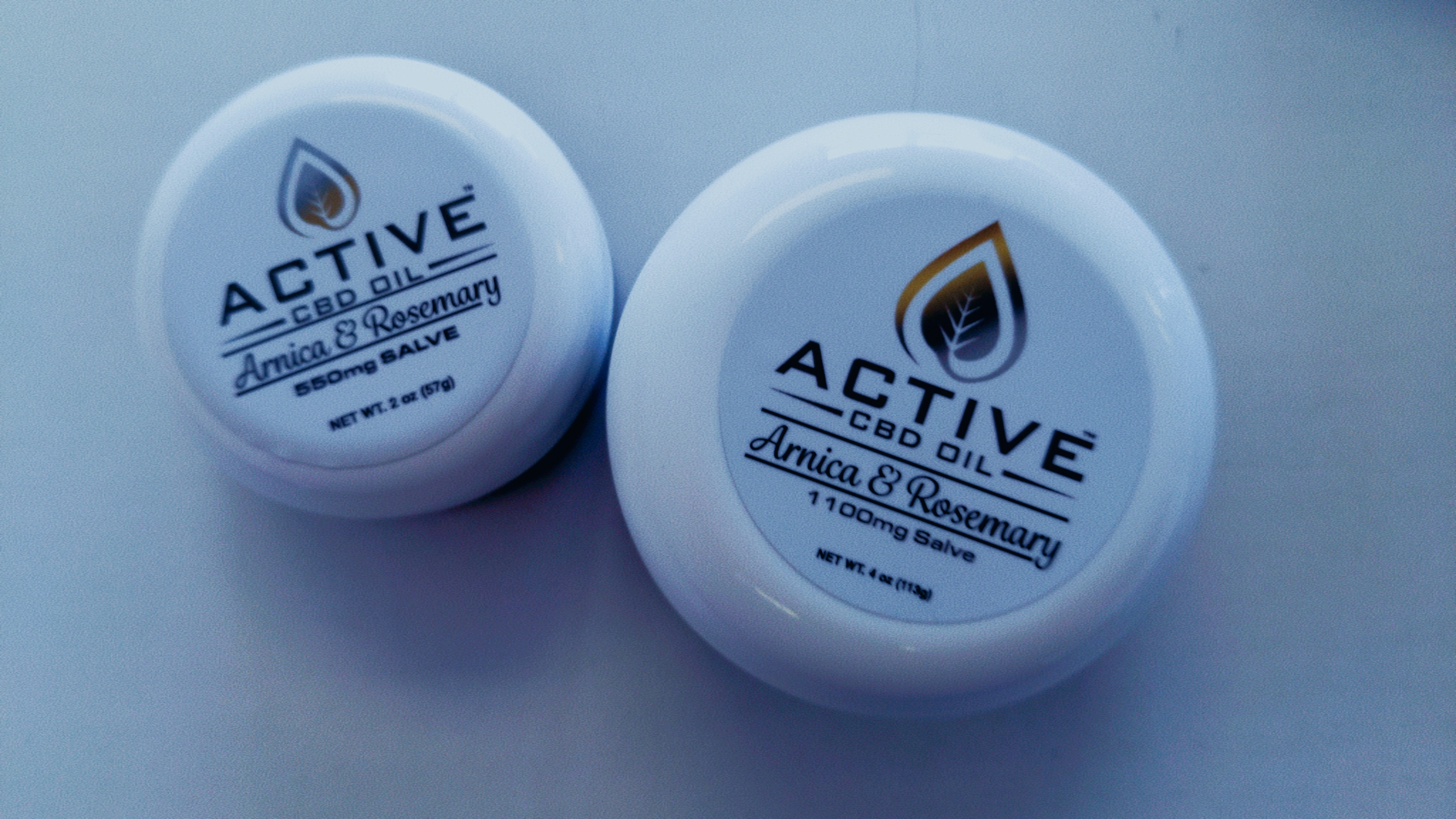 Organic Olive Oil
We use olive oil in both our broad spectrum and full spectrum salves. It is high in vitamins A, D, K, and E. Olive oil has been shown to leave your skin moisturized and hydrated. It is high in antioxidants as well, which is a substance that may have the potential to reduce or delay certain types of cell damage. The antibacterial properties of olive oil have also been shown, making it a popular ingredient in topicals used by people suffering from acne.
Shea Butter
We use shea butter only in our 550 mg 2 oz broad spectrum CBD salve. It is extracted from the nut of the shea tree. Shea butter is high in fatty acids as well as vitamins A, E, and F. Like olive oil, shea butter also contains a high amount of antioxidants. Antifungal properties have also been reported of shea butter. An animal study suggested it may be shown to reduce the effects of osteoarthritis by decreasing inflammation and protecting joints from additional damage.
Candelilla Wax
We use candelilla wax in our 550 mg and 1100 mg broad spec. salve. It is a wax made from the leaves of the candelilla shrub, a plant native to the southwestern United States and northern Mexico. It is often used in combination with other waxes to harden wax blends without causing a significant increase in a product's melting point. Being that it comes from a plant instead of an animal or insect, candelilla wax is a vegan alternative to beeswax. This ingredient being used instead of beeswax is what makes our 550 mg and 1100 mg broad spectrum CBD salves vegan and Leaping Bunny Certified.
Hemp Derived CBD
We derive all of our CBD oil from organic hemp sourced from southern Colorado, grown without pesticides or any harmful chemicals. Hemp is a bioaccumulator, meaning the plant absorbs any pesticides, heavy metals, herbicides, or fungicides found in the soil or air. Because of the possibility of dangerous contaminants in hemp it is important to make sure the company you purchase CBD salves from performs third party lab testing.
We use a third party lab to test every batch of every product we manufacture, and we make sure those lab reports are available to consumers. Every product we carry has a QR code on it that you can scan with your phone's camera that will take you to the website we use to post all of our third party testing reports. Each product is stamped with a batch number that you will use to find the corresponding report for. You can view that website here: https://www.activecbdoil.com/3rd-party-lab-results.
Vitamin E Oil
We use vitamin E oil in both of our CBD broad spec. salves and our full spec. CBD salve. It has been used in dermatology for over 50 years to moisturize and soften skin. Vitamin E oil has been shown to be potentially beneficial for a wide range of skin conditions, such as atopic dermatitis, psoriasis, and acne. 
Organic Rosemary Oil
We use organic rosemary oil in both of our broad spec. salves and our full spectrum CBD salve. Rosemary oil has been used in traditional medicine as a pain reliever and continues to be used for pain relief today. It is also used for muscle spasms, neuropathic pain, and chronic pain, which is why we use it in our CBD salve for pain. It has been used in studies as an insect repellent and has been shown to repel multiple types of mosquitoes and other insects.
Calendula Extract
We use calendula extract in both of our broad spec. salves and our full spectrum CBD salve. Calendula extract is extracted from marigold flowers and has been used for medical purposes since the 12th century. It has been shown to have antioxidant properties, as well as anti-inflammatory and potential wound healing properties which make it a popular extract in sunburn treatments. It has also been studied in prevention and treatment of skin damage caused by radiation associated with cancer treatment. Calendula extract has been used to manage symptoms of vitiligo, allergic and irritant contact dermatitis, rosacea, and melasma.
Arnica Extract
We use arnica extract in both of our broad spec. salves and our full spectrum CBD salve. It is a plant extract that has been used in homeopathic medicine for centuries. Arnica extract has been shown to have anti-inflammatory and analgesic, or pain relieving, properties, which makes it a popular option for those suffering from rheumatoid arthritis, osteoarthritis, and other musculoskeletal pain.
Full Spectrum CBD Salve
Our full spectrum CBD salve contains over 2.5 times more CBD than our broad spec. CBD! We offer a 3000 mg 4 oz. container of full spectrum CBD salve. This salve does contain trace amounts, 0.3% or less, of THC.
As far as ingredients, there is one big difference between our broad spectrum CBD salve and the full spectrum option: beeswax. We forego the candelilla wax and replace it with beeswax. The beeswax we use is organic, making this our only organic CBD salve. This product is made using over 98% certified organic ingredients.
Organic Beeswax
We use organic beeswax only in our full spectrum CBD salve. Beeswax has been used in ancient Egyptian, Asian, and European traditional medicine and has been shown to have antimicrobial, antioxidant, and anti-inflammatory properties. A systematic review of beeswax in dermatology and skincare shows us that beeswax is able to form a protective barrier on the skin while reducing loss of moisture, and could increase softness of the skin. 
Is CBD legal?
The 2018 Agriculture Improvement Act federally legalized the sale of CBD derived from the cannabis plant, so long as it is from hemp and not marijuana. All of our products are sold in accordance with the United States Controlled Substances Act.


Shipping
This item Ships to
Delivery
Estimated between and .
Will usually ship within 1 business day.
Free Shipping For Orders Over $99 in The United States.
| | | |
| --- | --- | --- |
| |     | Please allow 3-5 business days for your order to arrive. We offer priority and express shipping on most orders. Free Shipping on all orders over $99. |
| | | Returns are easy, simply contact us and send your item to our returns center for fast processing. We'll get you a replacement or refund in a snap! |
Here are 4 more great reasons to buy from us:
   

Our manufacturing facility is second to none. We make our Active CBD oil products in the largest, cleanest, CDPHE certified hemp manufacturing cleanroom in the world. You can literally eat off our floors!

Returns are easy, simply contact us for a returns number and send your item to our returns center for fast processing. We'll get you a replacement or refund in a snap!

We insist that you love everything you buy from us. If you're unhappy for any reason whatsoever, just let us know and we'll bend over backwards to make things right again.

Ordering from Discover CBD is 100% safe and secure so you can rest easy. Your personal details are never shared, sold or rented to anyone either.